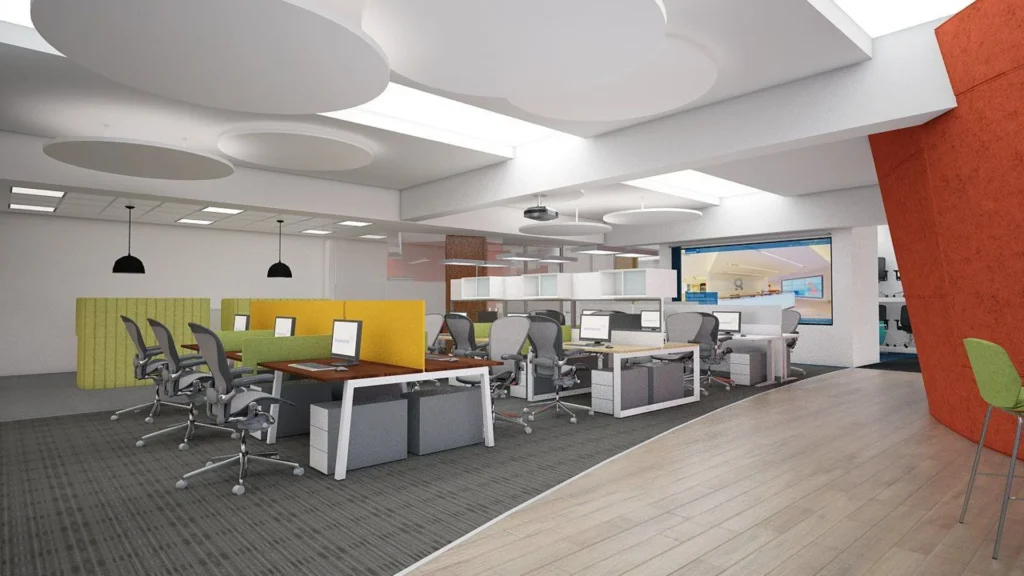 At Mayrasa Home we have the experience and the equipment necessary to to carry out office refurbishment projects with guarantees
We propose you to realise your project by being personalised advice by our experts at every stage of your office refurbishment.
From the outset, we will mark some fair and realistic deadlines for office refurbishment and we undertake to comply with them.
We create tight budgets and no surprises that seek a return on investment for each office refurbishment.
We have a multidisciplinary team which allows us to carry out an office refurbishment in which the client will not have to worry about anything.
Throughout our history, we have carried out office refurbishments for companies in different sectors. Thanks to years of experience, we are aware of the importance of importance of these spaces and the requirements that our office refurbishment projects must meet. At Mayrasa Home we create the space that each client needs in order to achieve the better working environmentwhich offers welfare and that it is comfortable, practical and functional. We adapt to the specific needs of each client to design the office refurbishment project that meets their needs. expectations.
DO YOU WANT INFORMATION ABOUT CUSTOMISED OFFICE REFURBISHMENT?
Contact with Mayrasa Home
Write to us and our experts will answer all your questions without obligation.
TURNKEY OFFICE REFURBISHMENTS in Torrevieja and Orihuela Costa
Mayrasa Home is made up of professionals trained in different fields. Having a multidisciplinary team allows us to offer you a turnkey office refurbishment. We take care of each phase of the office refurbishment projectThe planning, execution, management, design and equipment to deliver to you the best space you had imagined. We create a comfortable working environment that enhances the well-being of workers and their performance.
Our aim is for you to carry out your office refurbishment with the trust that a team of experts will transform your available space into the office you need and want. We want you to be the protagonist of your project. For this reason, throughout the office refurbishment we offer you personalised advice so that you are aware of all the options and so that together we can make the best decisions.
Comprehensive office refurbishment in Torrevieja and Orihuela Costa
At Mayrasa Home we are prepared to carry out a complete office refurbishment. Brickwork, partitioning, lighting, air conditioning, security, flooring, equipment, etc. A comprehensive office refurbishment project means that our professionals will take charge of your entire office refurbishment project from the initial phase to the last.
For many years we have been dedicated to the comprehensive refurbishment of offices, commercial premises, homes and, in short, all types of spaces. This has allowed us to improving our work and our team so that, today, we can guarantee that your office refurbishment project will be a success.
What are the advantages of trusting our company for your integral office refurbishment?
Cost savings. By having the team capable of carrying out the entire office refurbishment project, we avoid having to resort to third party companies and the consequent cost of doing so.
A project with a more general, comprehensive and professional vision. Thanks to the combined knowledge of the different experts in the team, we ensure that the planning, execution and control of the office refurbishment is carried out with greater perfection and effectiveness.
Greater enjoyment of the process. Entrusting a single company with the refurbishment of an office means considerably reducing the worries and headaches that might otherwise be associated with not doing so.
Realistic deadlines. Having control of the entire chain allows us to make more accurate calculations and to guarantee that you will meet your deadlines.
DO YOU WANT TO CONTACT MAYRASA HOME?
DO YOU HAVE ANY PROJECTS IN MIND?
DO YOU WANT TO TALK TO US?
Contact us and a member of our team of experts will be happy to answer any questions you may have.