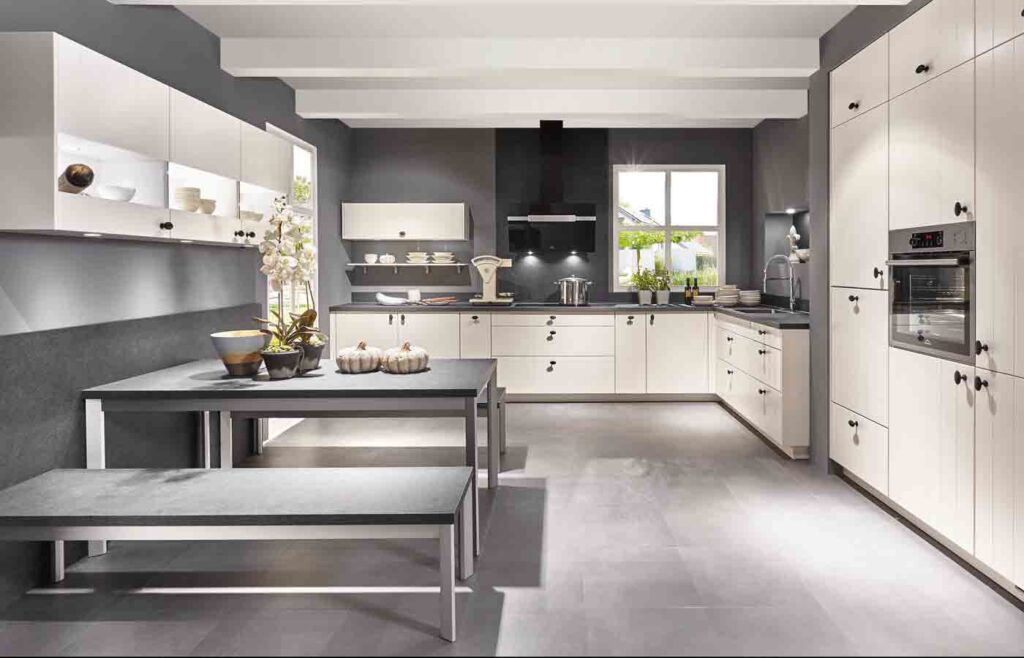 To make a radical change, to enjoy a new design, to create a more functional and comfortable environment, to make better use of space, to carry out a well-deserved renovation. The kitchen is often the heart of the home.. One of the most important, but also one of the most important, rooms of the one of the most subject to wear and tear by the passage of time. All this makes the kitchen refurbishment The problem is inevitable and can be dealt with in a multitude of ways.
It may also be that you want to give your home a facelift or, due to age, your kitchen has started to deteriorate. We offer you a kitchen renovation service in which you will we guarantee the successful transformation your kitchen needs with a budget without surprises.Do you want to discover all that our kitchen renovation service can offer you?
DO YOU WANT PERSONALISED INFORMATION?
Contact with Mayrasa Home
Write to us and our experts will answer all your questions without obligation.
THINKING OF DOING A KITCHEN RENOVATION?
When the situation we are faced with is that a kitchen has been left in the hands of obsolete in terms of technologyis not the sufficiently functional that could be or we detect that the space is not being used as it could be achieved, opting for a kitchen renovation project is the solution that will ensure a successful intervention. Our integral kitchen reform service aims to make your kitchen a space in which you can develop your own style. comfortablyinvolving a easy maintenance and that it is fully tailored to your needs and wishes.
A complete kitchen renovation on time can translate into long-term savings.. We have extensive experience doing kitchen renovations in Torrevieja and Orihuela Costa and that experience has allowed us to perfect our service to offer you quality and a complete kitchen renovation in Alicante to meet your expectations. What do we offer you with a complete kitchen renovation project?
What is involved in a kitchen renovation?
Usually, the integral reform of a house involves working in a space of large dimensions and, therefore, that offers infinite possibilities. For this type of integral reform projects, we base our work on 2 fundamental pillars:
A kitchen renovation in Torrevieja and Orihuela Costa in which we will achieve a radical change of its image as we seek to squeezing the full potential and the available metres of space.
A kitchen renovation project with personalised advice at every stage of the reform. We will provide you with all the information you need and we will make you all the recommendations We need to make the best decisions together to achieve the desired result.
A complete kitchen renovation by a kitchen renovation company whose experience allows us to be the best kitchen renovation company in the world. sufficiently flexible to satisfy your specific needs and space requirements.
A reform by a company that is constantly studying and learning. Thanks to this, we are up to date on the latest news from the sector and we are full of ideas for efficient, practical and functional kitchen renovations.
DO YOU WANT TO CONTACT MAYRASA HOME?
Renovation of SMALL KITCHENS in Torrevieja and Orihuela Costa
Functionality, storage and aesthetics. These are the 3 basic pillars on which we base each of our kitchen renovation projects. However, they become even more important when the project we are dealing with is a small kitchen renovation. We want to show you that refurbishing a 10 square metre kitchen does not mean giving up on creating a space that is innovative, modern, aesthetically impeccable and, of course, comfortable and functional. At Mayrasa Home we have the professionals and the experience to offer you integral small kitchen refurbishments that meet your expectations.
Our team is composed of professionals from different fields and trained in various disciplines. This allows us to carry out an exhaustive study of the space, to consider and question the possible options together, to find the most optimal layout and, in short, to create a practical, comfortable kitchen that fits in with your tastes and the latest market trends.
modern kitchen refurbishment in Torrevieja and Orihuela Costa
We'd all like to have a spacious, easy-to-clean kitchen with plenty of storage, but let's not kid ourselves: above all, we'd like to have a kitchen that is easy to clean and has a lot of storage. we would like to have a modern and beautiful kitchen. At Mayrasa Home we want to create that kitchen for you. Constantly learning about the latest developments in the sector allows us to create modern kitchen reforms. The concept of "modern" translates into elegance, safety and comfort. We know that the design and aesthetics of the environment have a direct impact on your wellbeing and, for this reason, we are committed to carrying out modern kitchen reforms in which we will create a space that will invite you to enjoy it.
DO YOU HAVE ANY PROJECTS IN MIND?
DO YOU WANT TO TALK TO US?
Contact us and a member of our team of experts will be happy to answer any questions you may have.